Enter a realm of amusement and adventure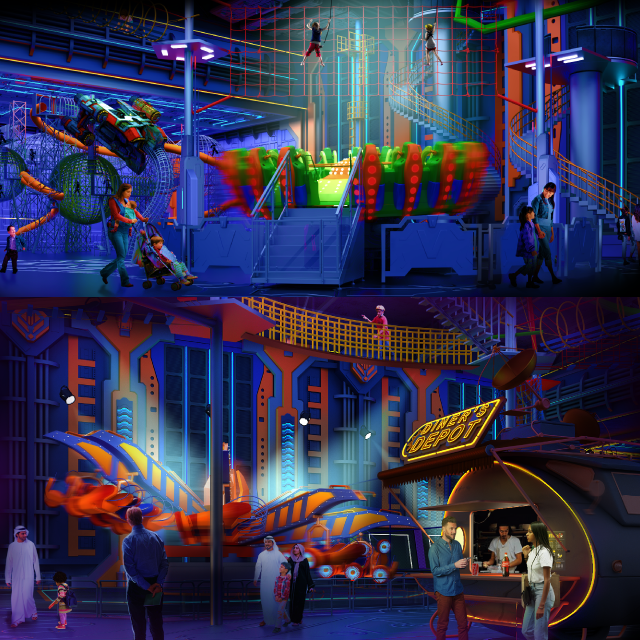 At FUNCO, we believe that great design begins with a core idea, which is why our concept design process is centered around this principle.
Imagine | Design is an approach that combines the power of imagination and design to create exceptional experiences. At its core, this approach involves using the imagination to explore new and exciting possibilities and then translating those ideas into immersive and captivating experiences through design. By taking a collaborative approach with clients, the Imagine | Design process ensures that every aspect of a project is tailored to their needs and preferences. The result is a truly unique and unforgettable experience that captures the imagination and leaves a lasting impression.
We manage the process from concept to completion to ensure we capture your vision and exceed your expectations.
Create | Build is a process that involves transforming an idea into a tangible reality through construction and craftsmanship. At its core, this approach focuses on bringing a vision to life through skilled execution and attention to detail. This process requires a deep understanding of the project goals, a detailed plan, and skilled professionals who can bring the vision to life. Through the Create | Build process, the design is transformed into a physical structure that meets the client's needs and exceeds their expectations. This approach ensures that every aspect of the project is carefully crafted and executed to the highest standards, resulting in a finished product that is not only functional but also visually stunning.
FUNCO's vast knowledge, skills, tools and techniques applied to a broad range of activities has enabled us to form long term partnerships with our clients from conception to completion while designing and executing high quality themed environments.
Entertain | Supply is an approach that focuses on providing a seamless and exceptional experience for guests through the supply of high-quality entertainment products and services. This approach involves working closely with clients to understand their needs and preferences and then providing them with innovative and engaging entertainment options that meet their requirements. Whether it's supplying arcade games, virtual reality experiences, or other entertainment products, the focus is on providing guests with a unique and memorable experience. Through the Entertain | Supply process, clients can rest assured that they will receive the highest quality entertainment products and services, allowing them to provide their guests with an experience they will never forget.
At FUNCO, we know that pre and post-solutions are crucial for our Family Entertainment Center (FEC) success. We carefully plan our business, select the right location, conduct market research, and develop a strong marketing strategy. We hire a skilled staff, set up efficient operational systems, and prioritize customer feedback. Post-opening, we focus on ongoing management, cleanliness, safety, and introducing new attractions and services. We optimize pricing strategies, conduct regular staff training, and constantly innovate to adapt to changing customer preferences and market conditions. Our goal is to provide exceptional customer service and create a memorable family entertainment experience. By thoroughly executing both pre and post solutions, we establish a strong foundation for long-term success, attracting and retaining customers, and driving profitability in the competitive FEC industry.
At FUNCO, we provide comprehensive support for your family entertainment center (FEC). Our expert technicians handle installation, spare parts, technical support, after-sales support, and maintenance of equipment, systems, and software. We ensure that all installations are done following industry standards. Our genuine spare parts and adherence to industry standards ensure that your FEC operates at optimal performance levels, minimizing downtime and maximizing customer satisfaction. With our round-the-clock support team, you can trust us to be there whenever you need us, resolving technical issues promptly and efficiently.
With FUNCO as your partner, you can have peace of mind knowing that your FEC is in good hands. Our commitment to exceptional support, industry standards, and genuine spare parts means that you can rely on us to keep your FEC running smoothly and successfully. Contact us today to learn more about our support services and how we can help you maintain a thriving FEC operation.
We offer comprehensive branding services to elevate your family entertainment center (FEC)'s brand identity. Our services include logo design, mock-up designs, package and product designs, graphic designs, web design, social media management, digital marketing, and brand identity development.
Our experienced team works closely with you to understand your FEC's vision and goals, creating custom branding solutions that align with your brand personality and target audience. We design impactful logos, create mock-up designs to bring your ideas to life, and craft package and product designs that stand out.
Our graphic designs, web design, and social media management ensure consistent brand messaging across all touchpoints, while our digital marketing strategies increase brand visibility and engagement. We also develop brand identity guidelines for maintaining a cohesive brand image.
With FUNCO's branding services, you can establish a distinctive brand that sets you apart from the competition and creates a memorable experience for your customers.
Providing services for
a perfect experience !